The  Chief Security Officer of the reputable crypto exchange, Coinbase, has come off to publicly refute any claims that the exchange was involved in the seizure of crypto assets relating to the recent Colonial Pipeline ransomware attack.
On a Twitter thread yesterday, Philip Martin took upon himself to explain their non-involvement regarding their association with the department of justice on the seizure of bitcoin.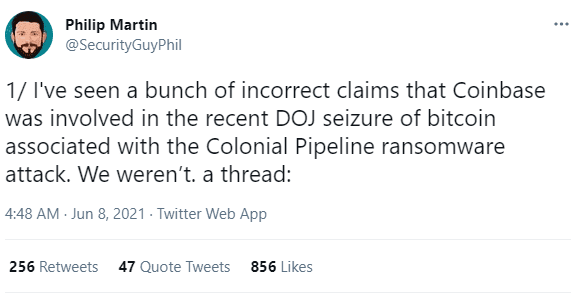 According to Philip, Coinbase was not the target of the warrant and has never received any ransom. Furthermore, there is no evidence that the funds went through a Coinbase account. In fact, Coinbase uses a pooled hot wallet, and handing over a private key doesn't make much sense.
The DOJ Seizure BackStory
Dating June 7TH, 2021, the U.S. Department of Justice announced it has seized 63.7 bitcoins currently valued at $2.2 million as proceeds of a ransom payment to a notorious group 'Darkside.'
The assets were seized following the group's successful attack on the Colonial Pipeline, by which they halted some of its critical infrastructures and demanded payment.
"Cybercriminals are employing more elaborate schemes ever to convert technology into tools of digital extortion," said Acting U.S. Attorney for the Northern District of California Stephanie Hinds. She further insisted that as a community, we need to develop advanced methods that can track and recover digital ransom payments.
Notably, the DOJ accoladed Colonial Pipeline for timely reporting the matter emphasizing that there is no place beyond the reach of the FBI.
As per the affidavit, the FBI has able to trace down approximately 63.7 bitcoins the Colonial Pipeline had paid to a specific address, with which they currently have the private key.
Curious how the FBI got the private key?
Philip Martin supposes they used the good old police work to locate the target servers with assistance from legal and political teams.