According to recent reports, the Central African Republic has joined El Salvador as the second country to recognize Bitcoin (BTC) as legal cash. Changepeng Zhao, the CEO of Binance, also tweeted about it.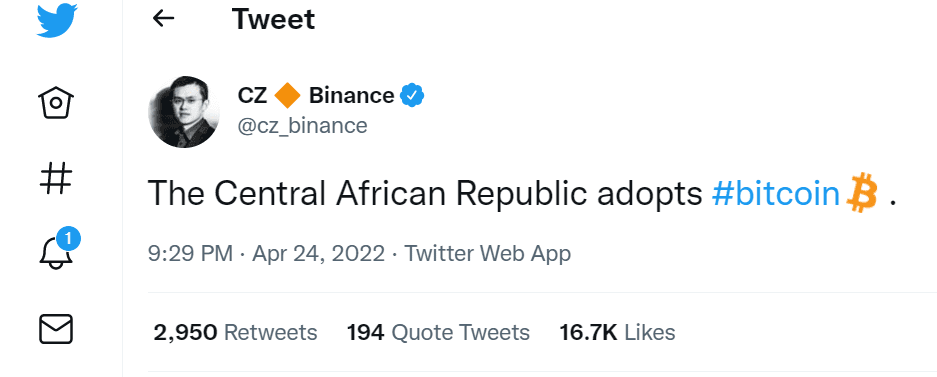 \
As a result, Bitcoin will now be accepted as a form of payment, making the Central African Republic the first country on the continent to do so. According to Forbes Monaco, the measure was overwhelmingly supported by the National Assembly, putting Bitcoin (BTC) at the core of the country's economic revival.
Calixte Nganongo, the finance and budget minister, and Gourna Zacko, the minister of the digital economy, post services, and telecommunications, together filed a draft legislation that recognizes Bitcoin as a legal currency and lays out the legal framework for cryptocurrency regulation. As published by Forbes Monaco,
"The acceptance of cryptocurrencies as a legal method of payment established via particular law is implied by the use of the legal tender." The Central African Republic is advancing toward a new, cutting-edge route of growth and economic performance with cryptocurrencies, a dynamic industry that is popular among investors worldwide and ever-present as full-fledged assets in the portfolios of the world's major financial players."
CAF's Digital Infrastructure is Being Transformed
The new development will pave the path for the Central African Republic's digital infrastructure to be transformed. It will also offer a big push to the use of blockchain technology, which is crucial for the project's success.
The CAF's opposition parties have also backed the decision, hoping that digital assets will help the country's greater population. The bill has received support from the parliamentary organizations Mouvement Coeurs Unis (MCU) and Mouvement National des Indépendants (MOUNI).
Countries under increasing economic strain are looking to Bitcoin and cryptocurrencies as a way to get out of their obligations. The Bitcoin adoption snowball effect appears to be just getting started.
Bitcoin (BTC) continues to gain worldwide acceptance despite high volatility and price corrections this year in 2022.
Use our discount BESTSIGNALS3% to get an exclusive 5% discount on your premium membership today! Join our telegram group for free trading signals.