Bitmex happens to be a crypto exchange and its popularity has grown quite decently, mainly because of the trading opportunities it offers with several derivatives. However, there are two phases where people often face a problem:
Withdrawals
Efficient trading
In the last section of this article, we will explain precisely how MyCryptoParadise offers feasibility in this regard. But let's have a quick look at Bitmex's withdrawal process.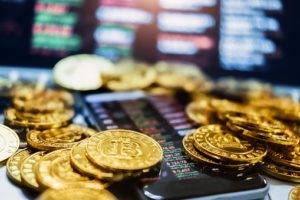 The Withdrawal
Just to set the perspective here, please note that Bitmex is a crypto-only exchange and in order to get your funds in fiat, you must withdraw them to an external crypto wallet that supports crypto-fiat withdrawal.
Move over the cursor to 'Account' tab and click 'Withdraw'
In the 'Destination Address', provide your BTC wallet address for withdrawing the coins
Enter the number of coins you want to withdraw – Bitmex will show the fee breakdown automatically
Provide Two Factor Authentication Key (please download Google Authenticator application for performing this step)
The next section will present the summary of the transaction
Click 'Submit' to withdraw your funds into an external wallet
How to Earn More and Increase your Withdrawal Amount?
Now that you have understood the withdrawal process, let's focus on increasing the worth of your Bitmex wallet so you can earn and withdraw a significantly higher amount.
To cut the long discussion short, you can do that by trading. However, since it might not be easy for you, MyCryptoParadise handles all hassles at the backend by evaluating the market and sending you the best crypto signals regularly.
We offer quite economical packages and all you have to do is join our group on Telegram where we send handpicked insights for best buying and selling instances on Bitmex. Please note that we are a team of 4 skilled crypto traders who have made hundreds and thousands of dollars collectively. Therefore, we are confident while helping you in the business.
The best part is that apart from receiving 9 vital trading signals for crypto, we also provide you with a personal trading coach 24/7 that you can contact directly to discuss market trends. Moreover, since we have been in this niche for several years, we can predict a forthcoming trend well in time which gives us a clear edge in the market and increases the probability of our members earning more with higher efficiency.
It is also worth noticing that if you cannot trade at all, you can integrate our secure API to manage your trading activities and boost the value of your portfolio. In fact, in such scenarios, the probability of errors is reduced to a great extent since automated tools manage the backend trading functionality by following our Bitmex signals.
So, once you have traded enough and you wish to withdraw, just follow the steps mentioned in the first section of this article.