Al-Monitor weekly news outlet and other mainstream media reports that Egyptians are growing much interest towards adoption, trading and mining of bitcoin. Egyptian crypto community is opting this as an alternative to caution themselves against unemployment and hard economic time resulting from the Covid-19 pandemic.
According to Muhammad Abd el-Baseer- a member of bitcoin Egypt Community, a miner and a trading expert told Mycryptoparadise news channel that there has been an increasing demand of Bitcoin and the number of Egyptians joining bitcoin community.

"Approximately 16,000 Egyptians have joined cryptocurrency community since that outbreak of coronavirus pandemic," Muhammad said.
Reasons for increased interests in Bitcoin among the Egyptians
The precautionary measures put in place to minimize the spread of Coronavirus in Egypt, including working from home, reduced working hours, lockdown and curfew since March have accelerated the adoption. Most Egyptians have found spare time to learn and invest in online businesses such as mining, trading bitcoin and other cryptocurrencies.
Besides, many companies such as hotel and travel closed down leaving more than half a million Egyptians jobless. According to an Egyptian media outlet, the unemployment rate rose from 7.7% to 9.6 between the first and second quarter of 2020.  Most Egyptians opted for online trade as an alternative to face the economic crisis amid Covid-19 pandemic.
According to Chainalysis-blockchain analytic firm, Egypt ranks 64th out of 154 countries globally in bitcoin adoption index. In the same report, Ukraine comes first, Russia second followed by Venezuela and China. The report further shows that Binance, Bitfinex, and Bitmex exchanges are the most preferred by Egyptians. There has been notably increased use of LocalBitcoins platform as well.
LocalBitcoins weekly trading volumes in the Egyptian pound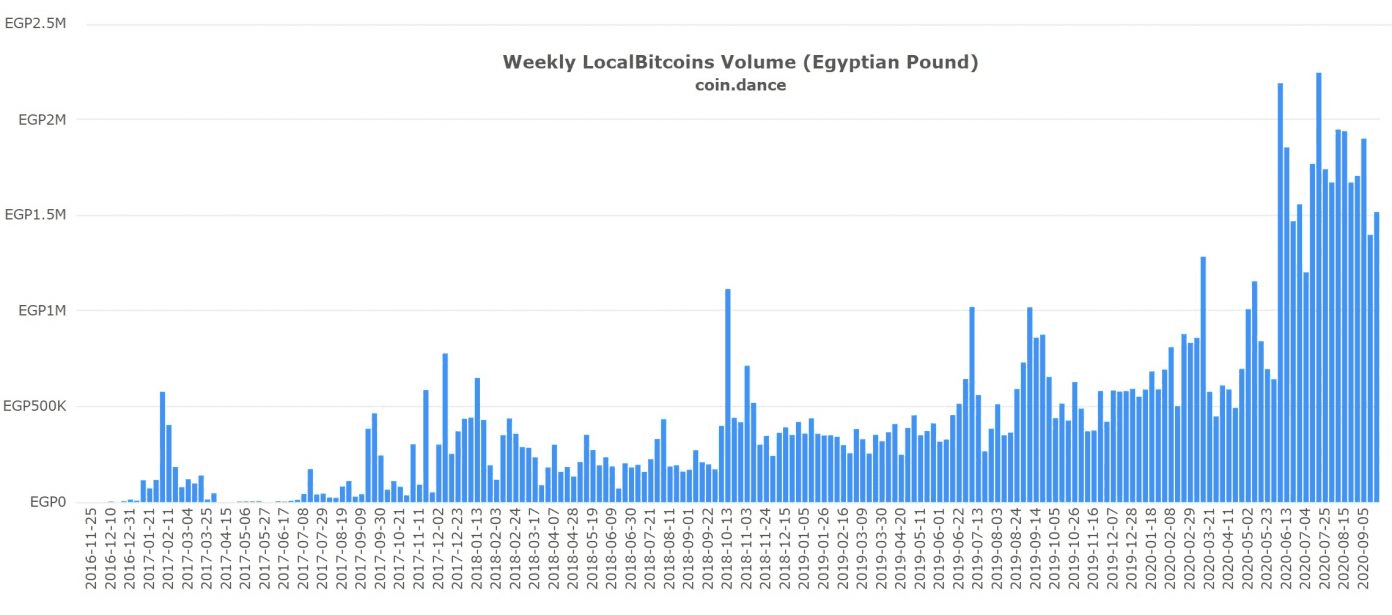 Source: Coin.dance
Legal aspects of Cryptocurrency in Egypt
Mohamed Mohsen-an Egyptian bitcoin lawyer and miner advised the Egyptian legal system through media outlet to quicken the process of legalizing cryptocurrency dealing in the country.  He added that proper regulations would assist in reducing criminal acts such as fraud and terrorism financing.
Ahmed Shuair- an economist and lecturer at Cairo University went ahead to assure Egyptian Bitcoin community that Central bank was doing a consultation with the Maltese government and other crypto experts on the legalization of cryptocurrency set to be effective as at 1st Jan 2021.