In an announcement made by Chinese insider journalist Mr. Wu on an aTwitter blog post yesterday, Binance reported that its spot and derivatives transactions in just 24 hours had surpassed that on the Chinese Stock Market.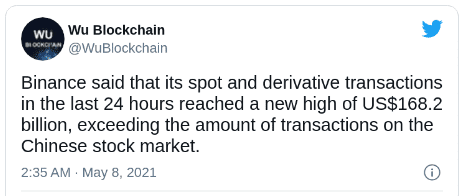 The net value of spot and derivative transactions reached an all-time high of $168 million, equivalent to 1.08 Chinese Yuans. Meanwhile, Shanghai and Shenzhen Stock Exchanges from China processed only 833 MIliion Yuans.
It is worthwhile to mention that while the Chinese insider journalist informs on this accomplishment, Binance and its community have not yet commented on achieving such a feat.
Binance Success Journey
Binance is currently the leading cryptocurrency exchange in the world. The exchange was launched in July 2017 through an ICO that raised over $1.5 million. At that time, most of its users were from China before the country banned cryptocurrency exchanges in September of the same year.
This regulation destabilized Binance for a bit, especially considering it was up against exchanges at the scenery for longer.
Despite fierce competition, Binance has risen to be the most popular cryptocurrency exchange in the world, with a trading volume of over $148,836,719,187 and the most trading pair combinations.
Taking Doge to the Moon
A keen strategy Binance uses to keep its market position is exploring and maximizing the most trending and exciting cryptocurrency trends.
Amidst the noise Dogecoin is creating in the industry, Binance has used the attention and started promoting the coin.  Users from South Africa, Kenya, Mauritious, Egypt, and Tanzania who deposit national fiat are eligible to get airdrops of up to $10,000 in Dogecoins.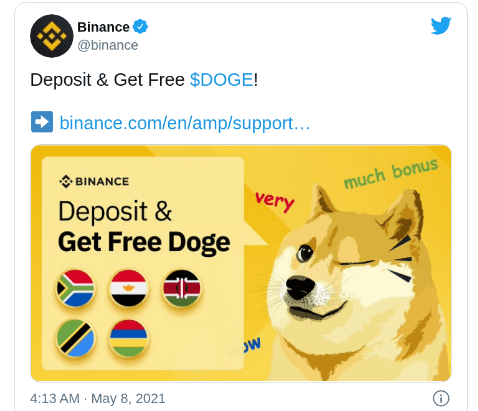 In the last quarter of last year, Binance launched a movement  #MyCryptoLife, where customers were asked to publish their best success stories by trading with them. Up to 20 winners received Binance Merchandise and the top three stories $50 in BNB.
If you ask me, their marketing strategies are hand-down genius.