All Chinese search engines have apparently stopped providing search results for Huobi, OKEx, and Binance only days after China restricted crypto influencers' social media accounts.
According to a Chinese journalist using the Twitter name Wu Blockchain, local search engines like Sogou and Baidu have blocked search results for three of the most significant digital asset trading sites. Binance, Huobi, and OKEx are three digital asset trading sites.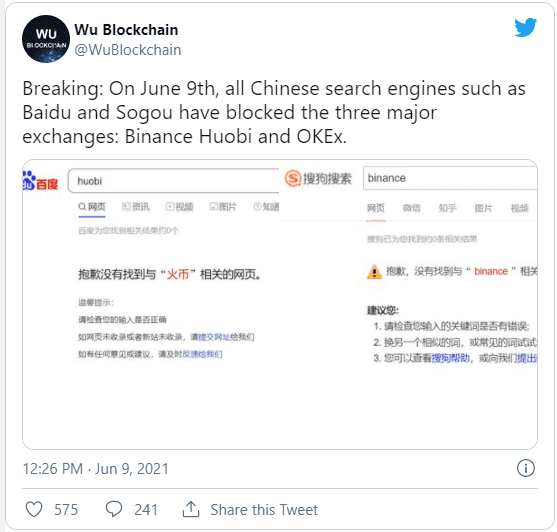 Source: Chinese blockchain journalist Colin Wu and 8BTC news portal.
Chinese analogue of Twitter
Furthermore, the journalist noted that several of the most popular social media websites, such as Weibo and Zhihu, have followed suit. This seems to be the continuation of China's recent cryptocurrency crackdown.
Authorities in China's Xinjiang region have ordered crypto miners to cease operations, as reported earlier today. However, according to Colin Wu, some miners are defying the rule and are keeping a close eye on the situation.
Due to abundant natural gas, coal, and other fossil resources, Xinjiang is China's critical energy territory.
Neither Chinese nor English is available for searching for the three exchanges. While the nation has recently taken several shots at the bitcoin business, this seems to be Baidu's first.
As previously reported, Weibo suspended accounts of major personalities associated with the Bitcoin business only a few days ago.
It's worth mentioning that China banned Bitcoin and the cryptocurrency field for the first time in 2013. Since then, the nation has often stated its opposition to the sector.
Previous occurrences, the most recent of which occurred less than a month ago, resulted in the crypto market plummeting in value soon afterward. As a consequence, it will be interesting to see whether today's efforts result in incomparable price drops.
While China opposes the decentralized character of crypto assets, the country is making tremendous progress with its state-run central bank digital money, which intends to improve population control.