On Wednesday, President Joe Biden issued an executive order directing the federal government to develop a strategy for digital assets like cryptocurrencies that foster sector innovation while reducing dangers to Americans and the global financial system.
Most importantly, the directive authorizes the Federal Reserve to do research and potentially construct its own digital currency, which would be akin to cryptocurrencies, which have recently become a financial asset for some Americans. The Order establishes a national strategy for digital assets based on six essential priorities: consumer and investor protection, financial stability, illicit financing, US leadership in the global financial system and economic competitiveness, financial inclusion, and responsible innovation.
The directive instructs the Treasury Department to create standards for Americans trading and utilizing bitcoin in order to reduce fraud and market instability. Treasury will also do more study on the use of digital assets and blockchain in future payment systems. The executive order is as follows: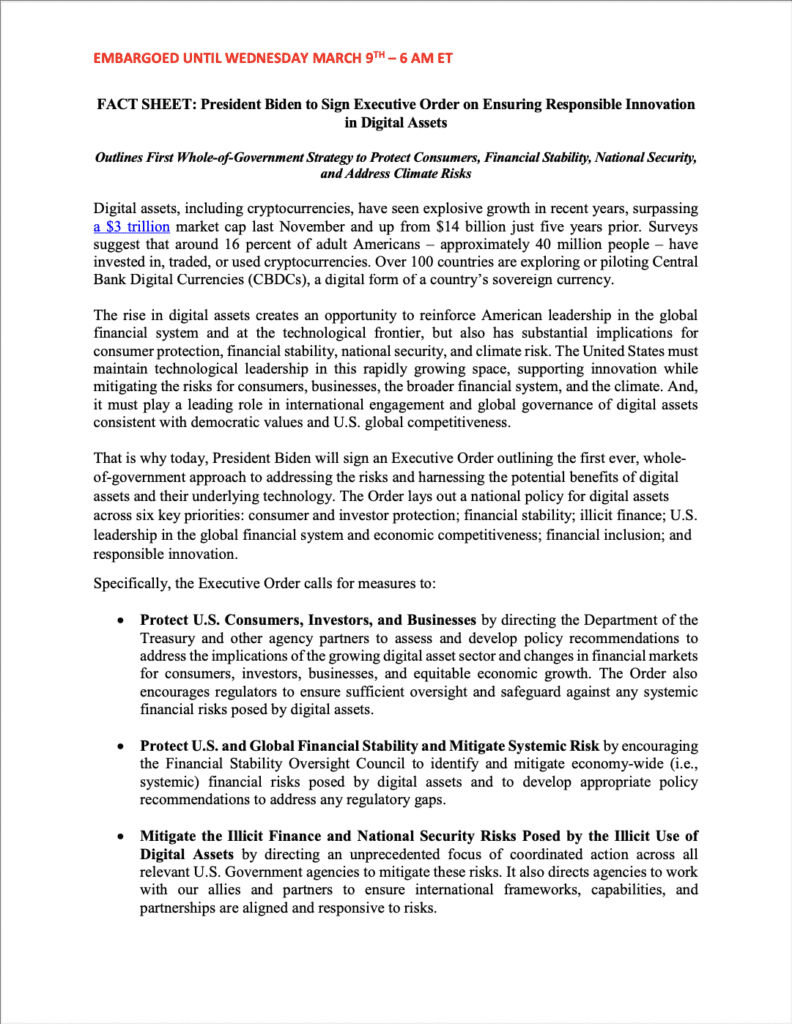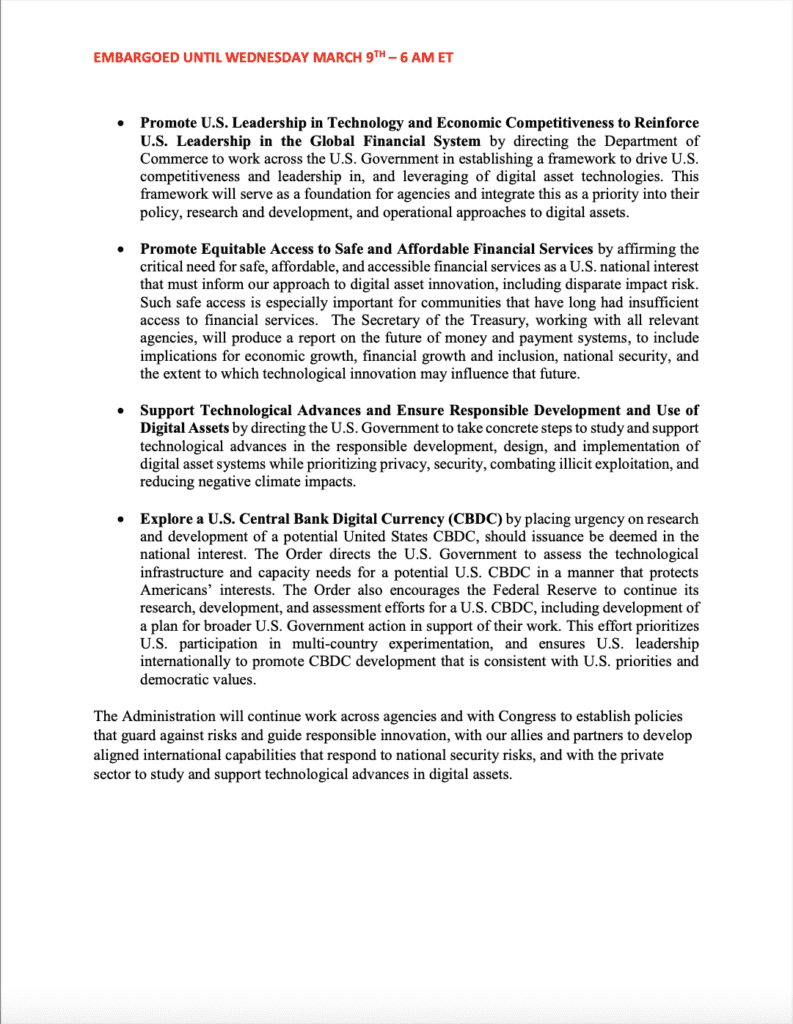 According to previous reports, the directive is mostly innocuous, despite initial worries of a looming crackdown. It does, however, highlight an all-of-government approach, requesting fresh study on important aspects of the crypto ecosystem from the Treasury, Financial Stability Oversight Council, Federal Reserve, and national security agencies.
A statement from Treasury Secretary Janet Yelen on the new executive order appears to have appeared on the Treasury's website by accident before being removed, but not before its webarchive was preserved. Yellen, like the information sheet, stressed collaboration as well as the existing base of agency interest in cryptocurrency, noting, "This study will complement ongoing Treasury initiatives."
The Administration will continue to collaborate across agencies and with Congress to develop policies that protect against risks and guide responsible innovation, with our allies and partners to develop aligned international capabilities that respond to national security threats, and with the private sector to study and support technological advances in digital assets.
You can choose from Binance ParadiseFamilyVIP, our new KuCoin ParadiseFamilyVIP, or BTC&ETH exclusive trading VIP! Each membership contains different trading strategy made perfect by years of testing by the ParadiseTeam! Get the right one for you, or take them all. BESTSIGNALS3% is your promo code, or simply Click this link