"O hail irreversible transactions," said the blockchain community. "Double-spending fraud will be eliminated," they said. Irreversibility of transactions on the blockchain network seemed a small price to pay for the elimination of the risk of double-spending.
However, for one Bitfinex user, the price is not so small after all. It is a whopping $23.5 million. The user was sending 100,000 Tether (USDT) from a wallet managed by Bitfinex to a DeversiFi wallet. The transfer cost the user 7,676.6 ETH as the transaction fee. 
No Customer Funds Are At Risk: DeversiFi
The public data on Etherscan, which was the source of the news reveals that the transaction took place at 11:10 UTC on Monday.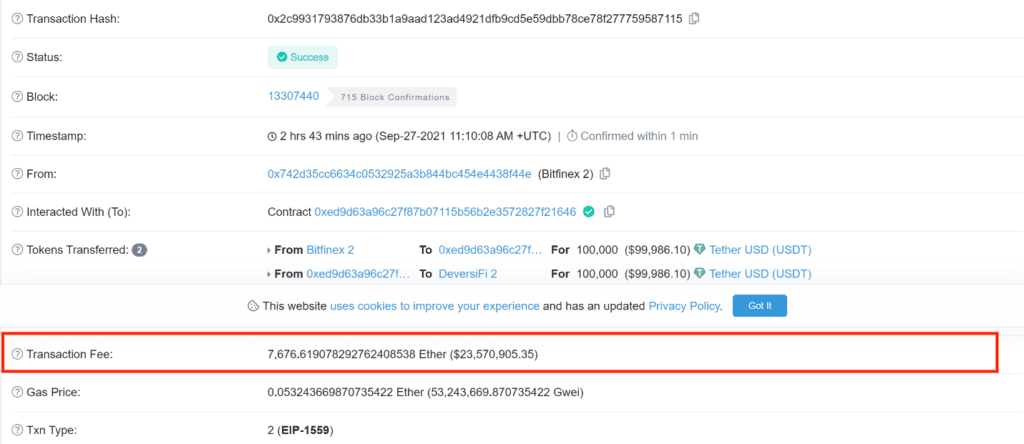 DeversiFi has confirmed that the transaction with "an erroneously high gas fee" was made using a hardware wallet from the main DeversiFi user-interface. The Bitfinex non-custodial exchange assured interested parties that no customer funds are at risk and that they are investigating how the high Ethereum transaction fee came about.
A spokesperson from Bitfinex explained that transactions, such as the one is in question, are usually shouldered by third-party integrations with Bitfinex. The spokesperson added they are relying on the investigations promised by DeversiFi to resolve the matter. 
A Good-Willed Miner to the Rescue
All hope is however not lost for the Bitfinex user. They can still recover their funds, but only if the Ethereum miner who processed the transactions decides to refund the excess fee amount. 
DeversiFi has confirmed that the miner has agreed to refund almost all of the Ethereum spent on the transaction. DeversiFi stated that the miner of the Ethereum block 13307440, will be returning 7,626 ETH from the total 7,676.61 paid. The miner is keeping 50 ETH, which roughly translates to $150,000 that is still very high for transaction fees. Despite this, it is a relief that the user is getting a huge portion back.
The Ethereum blockchain is receiving increased criticism over its high transaction fees. The average Ethereum transaction fee is currently $45, which is the highest it has been since September 9.