Ripple's Senior Product Director Craig DeWitt took to Twitter yesterday to announce his appointment as the new Vice-Chair of the U.S. Faster Payments Council.
The U.S. Faster Payments Council is an entity focused on bringing together the top-notch players in banking and finance in the U.S. The appointment of Ripple's Craig DeWitt is despite the ongoing legal battle between crypto exchange Ripple and the U.S. Security and Exchange Commission (SEC).
Ripple Strengthens Its Presence in Core Industry Despite Legal Battle with SEC
In the announcing tweet, Ripple's Senior Product Director Craig DeWitt stated that he was proud to share his selection as the Vice-Chair of the U.S. Faster Payments Council for cross-border payments. DeWitt added that he would join the team to investigate CBDC and the best-in-class technologies to make them possible. 
Ripple's Craig Dewitt also mention that big industry players like Ripple will be involved in his role. Other notable companies associated with the U.S. Faster Payments Council are The Clearing House, BNY Mellon, and PSCU.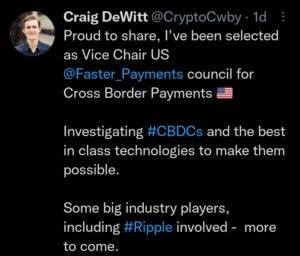 Craig DeWitt is following in the footsteps of another Ripple associate, Pat Thelen, who previously joined the council's Board Advisory Group. Such moves by crypto exchange Ripple work to strengthen its presence in the core industry, despite the pressure from the SEC.
The Fed Reserve is Taking A Cautionary Approach to USDC
While the Fed Reserve recognized the value of USDC, it is not rushing to issue it. As per its FAQs sheet, the Central Bank states it is fully engaged in the CBDC research and policy development.
The Fed Reserve wants to understand better the underlying technologies, potentials, and policy issues associated with the U.S. Dollar-pegged CBDC. While the Central Bank commits to providing a range of payments options to financial institutions, it also has the mandate to ensure the safety and efficiency of the nation's payment system. For this reason, the Fed is taking a precautionary approach to CBDC.
If you are ready to upgrade from your FREE telegram membership and see in a real time crypto trading signals and portfolio diversification of the ParadiseTeam, use BESTSIGNALS3% as the promo code  and join PardiseFamilyVIP with this limited discount now ! You can choose from Binance VIP, Bitmex, Bybit or newly kraken and FTX vip as well.