MicroStrategy's CEO, Michael Saylor, is counting massive profits in his long-term support for Bitcoins.
In a tweet this Thursday, Saylor retweeted one of his old tweets whereby he had disclosed he owns up to  17,732 BTC. Each of these coins he informed to have bought at an average price of $9,882. 'You do not sell your Bitcoin.' He cautioned with the new tweet.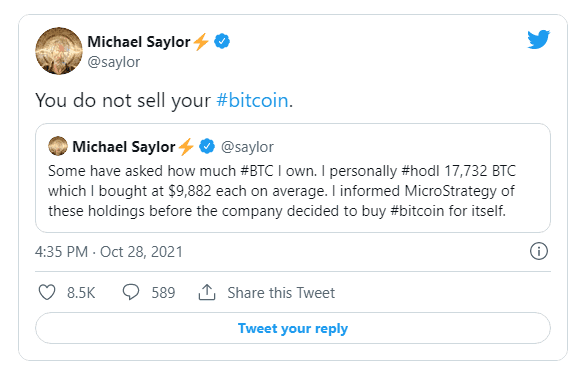 At that time, Saylor declared his total Bitcoin holdings on 28th October 2020; the holdings would have been worth $235 million. Exactly a year later, the same amount of Bitcoins are now worth 1.1 Billion dollars.
In an interview with Coindesk, Saylor confirmed that he had never once sold any of his holdings, and we can assume he is a happy man about that decision. At the time of writing, one BTC sells for 61665 USD, meaning Saylor is reaping more than 500% of gains.
Microstrategy under the leadership of such an enthusiastic Bitcoin believer could not be left out. Infact Saylor prides himself in informing the company of this new opportunity to see how well his personal holdings were performing. To date, MicroStrategy has 114,042 BTC in its balance sheets, 9000 of which were added during the third quarter. In current market prices, the company has Bitcoin worth $7 billion, whereas the company's entire market capitalization is roughly $7.4 billion.
Bitcoin Pushed Backs Towards an All-Time High
Bitcoin has recently been breaking above a short-term downtrend which could support the $65000 resistance level. An all-time high of $ 69000 is also well within possible reach, although buyers struggled to sustain these levels last week.
Overall, the upside momentum is improving towards the fourth quarter. A confirmed breakout above the all-time high would project the process towards $86000, and an immediate pullback would limit it to a $53000 support level.
If you are ready to upgrade from your FREE telegram membership and see in a real time crypto trading signals and portfolio diversification of the ParadiseTeam, use BESTSIGNALS3% as the promo code  and join PardiseFamilyVIP with this limited discount now ! You can choose from Binance VIP, Bitmex, Bybit or newly kraken and FTX vip as well.