Dogecoin community and its supporters have proposed a Doge-themed music festival, Dogepalooza, to celebrate the cryptocurrency's recent successes in solidifying its market presence.
Of cos, the self-acclaimed dogefather, Elon Musk, came through and backed the idea of the ceremony. 'sounds kinda fun,' he said.
The Dogecoin userbase plans to use this avenue to invite sponsors, volunteers, vendors, customers, and the community to share their passion and love for the coin.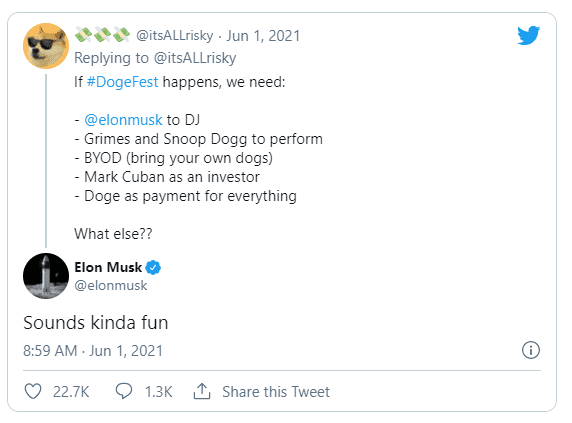 Although the dates and the venue are yet to be confirmed, more speculations presume the event will likely be held this fall.
All the Way to the Moon!
For a cryptocurrency that started off as a joke, Dogecoin has a circulating supply currently of 129.85B DOGE. This is massively impressive.
On coinmarektcap, it is the 5th ranked cryptocurrency with its prices up 35.7% during the last 24 hours. The live Dogecoin price today is $0.435152, with a 24-hour trading volume of $11,068,141,991.
What tells Dogecoin apart from most of its competitors is an active community. This, in my perspective, is what makes the coin so versatile and fun.
The Dogecoin fanbase is big on Reddit. The team has, on several occasions, raised money for charitable causes and crowdfunded sponsorships. To say the least, Tesla and SpaceX CEO Elon Musk heavily backs up the currency and has within himself powers to surge the coin's prices with just a mere tweet.
By being a people's coin, the Dogepalooza music festival will be the perfect avenue to gather all its fans.
Upcoming Cryptocurrency Events
While Cryptocurrency conferences are more heard of and attended, a themed festival is a bit novel, but we are here for it.
A Bring Your Own Dog (BYOD) event featuring all these celebrities and a tight-knit online community brought together; count me in!
Nevertheless, there are a few similar events of this type scheduled for the year. The Blockchain Fest 2021 will take place in June, and the Crypto Fest later on in September.