Bitcoin Cash (BCH) has split into two (Bitcoin Cash ABC (BCH ABC) and Bitcoin Cash Node (BCHN) while its community remain stranded over new blockchain protocol resulting from the hard fork. After the split, BCH experienced an immediate price decline, from $255 to $242. Traders have expressed uncertainty over the network's future and forced down the price of Bitcoin Cash by 5% within 24 hours.
Bitcoin Cash that took place in August 2017 was a hard fork from the Bitcoin network. Bitcoin supporters have proposed increasing the size of the block to maximize the number of transactions per block. According to the supporters, this is closer to Satoshi Nakamoto's initial vision of Bitcoin as a distributed peer-to-peer digital currency.
The proposal by a group of developers required 8% of mined Bitcoin Cash to finance the creation of the new coin. Another group opposed this, calling the plan a "miner tax." They were also worried that declining income could shift the original aim of the community to become decentralized.
Miners have shown support for BCHN; however, Blockchain is yet to accept the miner's tax. No one has shown interest with blocks on the BCH ABC blockchain as per the report on Coin Dance.
Since BCH ABC has no vast support, it appears that BCHN will inherit the name "Bitcoin Cash (BCH)."
Introducing another hard fork of the Bitcoin Cash network, as per the data below, did nothing to bring the price of the coin back to normal. BCH invested the past three months has been fluctuating between $230 and $280 in USD terms, while BTC increased its value by a third.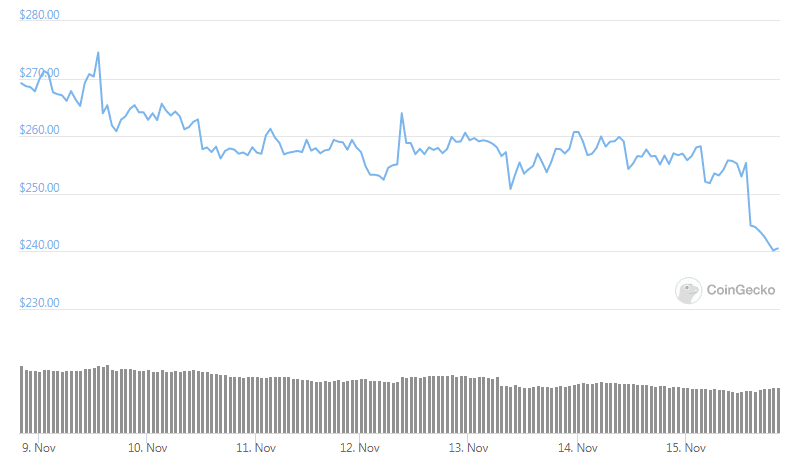 BCH 7-Day Price Chart (Source: Coingecko)
Most companies anticipate no delays and say that they are prepared to handle the changes, but some, for instance, Coinbase has declared a temporary pause in BCH deposits and withdrawals.