Best Crypto Signals on Telegram
Before exploring the best crypto signals on Telegram, let's just understand the concept first. Basically, a crypto signal happens to be an indication or advice from experienced traders in the niche, suggesting you to buy/sell a digital asset at a particular time to earn a potential profit.
Although the trend of crypto trading is increasing, the niche is quite overcrowded and it often gets difficult to find a reliable platform that provides research and experience-based statistics for efficient trading.
So, this is where MyCryptoParadise comes into play and offers the best crypto signals.
How Does MyCryptoParadise Provide Best Signals?
Let's explore a couple of facts and approaches which position us to deliver results in the industry.

Experience
It happens to be our primary weapon. Basically, MyCryptoParadise is run by 4 crypto experts and since we have earned hundreds and thousands of dollars, we have a pretty good grasp in identifying the trends and market happenings that are often neglected by the newbies.
Research
Without comprehensive research, trading is not profitable. In fact, it becomes a great risk to your investment if you skip proper research. Since it is quite a time-consuming task, our experts conduct an important fundamental analysis for you.
Here is an example of our Binance signal: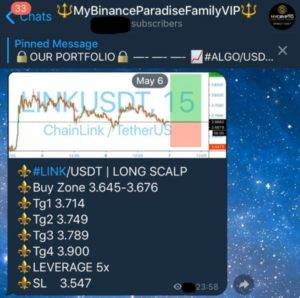 following picture shows an example of our Bitmex signal: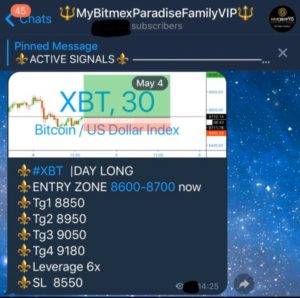 Just so you understand the signal better, here is the breakdown of the terminologies used in the above images:
Buy zone: This is the phase where we start buying (accumulating) a particular cryptocurrency, based on our strategy that we teach to all of our ParadiseVIP members
TG: It refers to the sell target and in this phase, we sell some of the coins based on our risk management in order to ensure a profit
SL: It is often called the stop loss and it implies that the order should be stopped to minimize the loss if the trade goes against us
Therefore, once our collective experience is combined with the results of this high-end research, the outcome is a set of crypto signals, ideal for you to conduct the trade on a given day.
Analysis
At MyCryptoParadise, our core aim is to increase the probability of profits. In the analysis phase, our hybrid market indicators and manual strategies are coupled together to produce the most reliable signals, we make signals based on deep technical and fundamental analysis, and before releasing the crypto signals, we make sure that we have the best probability possible to make a great profit. Thus, ensuring that our VIP members, who have paid a premium for availing this service, always get the best value for their money, and their funds are best utilized according to the market.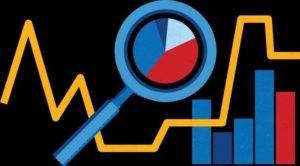 Guarantee
Our Telegram groups have grown exponentially in the last couple of years (and so do our VIP members) due to our highly reliable signals and accurate crypto market analysis. It is quite a promising indicator that a significantly high ratio of our signals always results in a profitable move.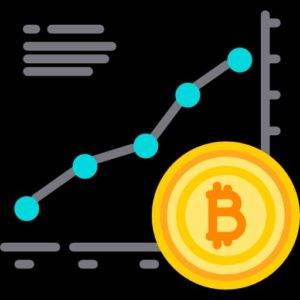 To give you more confidence, it is worth mentioning that after providing each signal, our crypto expert will reach out to the community and discuss more about the market principles for executing your trade based on each signal.
Pros of Joining our Telegram Group
To begin with, we dish out the top 80 Binance and Bitmex crypto signals per month (sometimes we share more crypto signals during that month and sometimes less), as it all depends on the current market situation – our motto is quality over quantity. It is worth noticing that each of the signals is carefully evaluated before we suggest it to you.
Now that you have a crisp overview of our benefits, let's explore them categorically.
Be the First
We deliver up to 80 best crypto signals per month and our VIP members receive up to 9 signals per day. Speaking from our experience, even one quality signal is enough to make your day worthwhile! However, just to factor in the concerns of some skeptical traders, we do provide multiple signals only if the market situation allows us.
Furthermore, the ParadiseTeam also tells you about the respective buy zone for each cryptocurrency and their respective sell targets. This is vital to ensure that the overall losses are minimized and the likelihood of profits is also increased.
In short, we work on low-risk high reward strategy which has proven successful for hundreds and thousands of users over the years.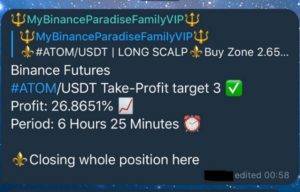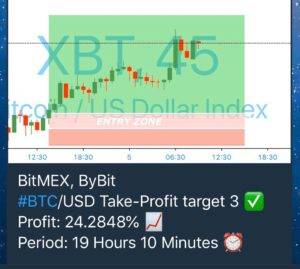 Get a Personal Coach
We understand that for some newbies and even for the pros who are considering to bring a major change in their strategies, it is crucial to talk to a crypto expert. This is where we take a significant lead by offering a personal coach available for each member 24/7 without any additional charges!
Initially, a 30-minute intro call will be scheduled with your personal coach (aka crypto expert) to tell you in detail about the platform and how everything would work in general. After that, you can reach out to your dedicated coach via chat or a phone call anytime. It's that simple!
Avail the Chatroom (only for gold and platinum members)
Most of us have been to the airports, but only a handful of passengers are allowed to visit the first-class lounge due to a hefty premium. Well, virtually, that's how our VIP member group looks like – high-quality premium service!
Several members have found their strategies and best crypto signals from this chatroom and made thousands of dollars.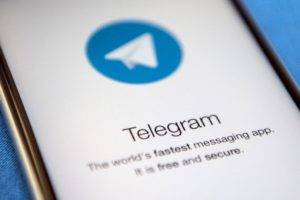 Watch us Rolling!
We understand that some newbies might be skeptical before joining our premium network. So, don't worry, we have public groups as well for Binance and Bitmex. These groups are run by the same experienced people who advise the VIP members, but the extent of information delivered in each signal is limited here and it works simply only as a "trial" of what you will get in VIP.
The groups that are free to join are quite sufficient to give you an idea about the extent of information delivered in our VIP groups.
What Makes Our Crypto Signals the Best?
Well, you must have grasped our key factors, but let's just lay out all of our benefits in the list below so you can make an informed decision:
Low-risk high reward strategy for all signals
Professional risk and fund management
Portfolio diversification on Binance which allows the traders to minimize risk and explore the performance of more tokens while benefitting from sudden moves of BTC.